Join us this holiday season as we celebrate and prepare for the birth of Jesus Christ! 
PUMC Christmas Party: December 10th after 9:30 worship
Christmas Caroling: December 10th, 2-3:30pm
March to the Manger: December 17th @ 9:30am
Christmas Eve Service: 7:00pm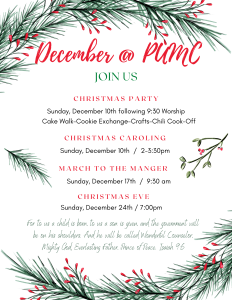 We invite you and your family to join us each week for our morning worship at 9:30 am, in-person or via OUR YOUTUBE CHANNEL.  We offer Children's Church on Sunday mornings following the Children's Message during worship and small groups throughout the week. Come early or stay late for Soul Cafe and spend your morning with PUMC!